Finance has a crucial role to play in tackling climate change – and HSBC aspires to be a leading partner in the transition to a low-carbon world. We are committed to supporting responsible economic growth and enabling the low-carbon transition using sustainable finance.
We define sustainable finance as any form of financial service which integrates environmental, social and governance (ESG) criteria into business or investment decisions.
Sustainable finance covers both the financing and the investment activities needed to support the UN Sustainable Development Goals (SDGs), and in particular action to combat climate change.
A rapidly changing climate represents a potent, unprecedented and irreversible threat to habitats, societies and economies around the globe. In 2015 almost 200 leaders signed the Paris Climate Agreement, committing countries to transition to a lower carbon economy and limit the global average temperature rise to 2 degrees Celsius above pre-industrial times.
In November 2017 we made five sustainable finance commitments. The table below summarises these pledges and the progress we have made in achieving them.
Sustainable finance commitments
Commitment
Progress
Commitment:1. Providing USD100 billion of financing and investments by 2025 to develop clean energy, lower-carbon technologies, and projects that contribute to the delivery of the Paris Climate agreement and the UN SDGs. This means playing a lead role in the development of financial products for customers advancing renewable energy and low-carbon business activities

Facilitated USD28.5 billion in sustainable financing and investments since the start of 2017. Read more about the definitions we use to measure our progress in our Data dictionary PDF 82.6KB
Continued to innovate and develop new products, including new low-carbon investment funds in our Asset Management business and HSBC Holdings plc's inaugural corporate SDG bond (see below)

Commitment:2. Sourcing 100 per cent of our electricity from renewable sources by 2030, with an interim target of 90 per cent by 2025. This means sourcing 100 per cent renewable energy via direct investment or direct purchase agreements that in turn help the financing of new renewable energy projects

Renewables power purchase agreements signed to cover 29 per cent of our electricity consumption
Decreased electricity consumption per full-time employee by 19 per cent since 2011

Commitment:3. Reducing our exposure to thermal coal and actively managing the transition path for other high-carbon sectors. This means discontinuing financing new thermal coal mines or new customers dependent on thermal coal mining

Embedding climate risk in risk policies and processes. This included rolling out a framework to measure transition risks across the six hardest to transition sectors in our loan portfolio
We updated our energy policy to align lending guidelines to science based, climate change related targets

Commitment:4. Adopting the recommendations of the Task Force on Climate-related Financial Disclosures (TCFD) report 2018. This will help us identify and disclose climate-related risks and opportunities across our businesses
Commitment:5. Lead and shape the debate around sustainable finance and investment

Published over 40 reports and articles covering key themes including low-carbon transition, climate risk and disclosure, and green financial centres. These are available on our Centre of Sustainable Finance site

(opens in new window)

We actively engage with clients, regulatory and industry bodies, as well as other stakeholders to promote sustainable finance.
Sustainable financing
A key objective for HSBC is to provide financing to enable the transition to a low-carbon economy and to help clients manage transition risk. Sustainable financing includes providing credit and lending facilities, as well as advisory services or access to capital markets.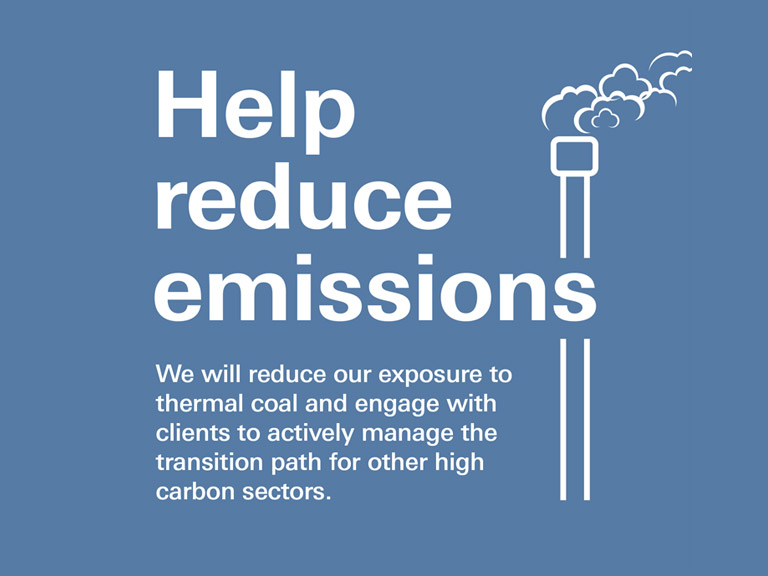 Sustainable finance helps businesses transition from carbon-intensive activities, as well as develop the new energy sources, technology and infrastructure needed for a cleaner future.
To provide the finance to develop climate and environmental projects, HSBC is playing an important role in shaping the fast-developing green bond market. We are a member of the International Capital Market Association's Executive Committee for the Green Bond Principles, which are a set of voluntary standards for issuers of green bonds.
In 2015, the Group issued a green bond for the first time when HSBC France raised EUR500 million to fund customers and projects in the following sectors: renewables, energy efficiency, sustainable waste and water management, sustainable land use, climate change adaptation, and clean buildings and transportation. Our green and sustainability bonds page contains further detail.
In November 2017, HSBC broke new ground when it launched a USD1 billion bond based on the UN SDGs – the first time a private company had issued a bond of this type. Then, in September 2018 HSBC Amanah Malaysia facilitated the world's First SDG Sukuk.
In 2018 we were named Asia's Best Bank for Sustainable Finance at the Euromoney Awards for Excellence.
Sustainable investments
Investors and investment managers are increasingly applying environmental, social and governance (ESG) criteria to financial decisions. At HSBC, we are developing the investment products and services to meet this growing client demand and enable sustainable investments to flow.
We have increased our range of socially responsible investment funds as demand for climate-related investments continues to build. This includes new multi-asset sustainable investment funds which incorporate climate and ESG factors to generate sustainable value accompanied by active ownership and policy advocacy.
Elsewhere our own HSBC Bank (UK) Pension Scheme has announced that GBP1.85 billion will be transferred into a new fund which excludes companies failing to meet minimum environmental standards, including those relating to climate change.
Please visit our Global Asset Management website (opens in new window)  for more information on our approach to responsible investing.
Meeting international standards
We continue to work in partnership with governments, investors and other financial institutions to improve transparency and create the right conditions to support long-term investment in environmentally sustainable projects. We have played an active role in industry forums for many years and built long-term relationships with key non-governmental organisations.
Read more about how we engage with other stakeholders, industry forums and groups focused on sustainability
Sustainability risk
HSBC seeks to ensure that the financial services we provide to our customers to support economic development do not result in an unacceptable impact on people or the environment. HSBC is a signatory to the Equator Principles and we work with business customers to help them recognise sustainability risk and improve their sustainability practices.
Read more about our approach to sustainability risk
Centre of Sustainable Finance
HSBC's Centre of Sustainable Finance (opens in new window) leads and shapes the debate around sustainable finance and investment. The centre publishes research reports covering key themes such as greening the Belt and Road Initiative, energy evolution and climate change risk assessment.