Our recruitment process
HSBC's application procedures vary according to the role you are seeking and the location where you are hoping to work. They will typically include the stages outlined below, depending on whether you are applying for a general role or a student and graduate role.
General application details
Candidates for roles at HSBC will usually be taken through a number of steps, from submitting their CV and completing online assessments to telephone and face-to-face interviews.
We aim for an inclusive work environment where everyone can reach their full potential. If you require any adjustments to our recruitment process please let us know. Examples of such adjustments might include supplying materials in large print or Braille or providing assistance to attend our assessment centres.
Your CV is an important part of your application to HSBC and is your first opportunity to demonstrate your qualities and achievements. It also enables us to consider you if another suitable role comes up in the future. In addition to your CV we may ask you to complete an application form.
Begin your CV with a brief summary of your skills, accomplishments and career goals. Follow this with your employment history and work experience, starting with your most recent role. Include full details of your employers, dates of employment, job titles and responsibilities. Make sure you give examples of your skills and achievements, relating these to the role for which you are applying where possible.
Next, give details of the university, college or school you attended, your qualifications and grades and any work-related courses taken. Start with the most recent and work backwards, using bullet points or a table. Finally, mention any hobbies or interests that have a particular relevance to the role for which you are applying. Ensure your contact details are up to date and that the CV is no more than two pages long.
Once you have successfully completed your application, we may send you a link to a website containing some online assessments. These are designed to identify whether you have the skills required for the role and to assess your suitability for working at HSBC. The number and type of assessments will depend on the role for which you are applying.
You can take the assessments at any time within a fixed number of days, as specified in the email. You should complete some of the practice questions supplied before you begin, and start the assessments only when you are sure you can give them your undivided attention.
We conduct interviews in order to assess your compatibility with HSBC's values, as well as your general skills and motivation for applying. It is also your opportunity to make sure the interviewer knows that you are enthusiastic about working at HSBC. If you are successful in the interview, we will contact you afterwards and let you know the next steps.
HSBC uses several methods to conduct interviews with candidates, which range from video interviewing technology through to over the telephone or in-person meetings. Regardless of the method of interview, we will ask you about specific occasions when you have demonstrated a particular ability. It is important that you identify and know your strengths and be prepared to give examples of when you have demonstrated relevant skills. Focus on your role in these situations and the outcomes. These examples don't have to be drawn from work. For each example, explain the situation you faced; the specific task required; the action that you took; and the result of this action.
On Demand video interviews
HSBC has engaged with a video interviewing technology partner called Modern Hire which has On Demand interviewing capabilities. On Demand video interviews are being used for some roles instead of telephone interviews.
On Demand interviews contain questions that are pre-set for you to answer via video which do not require an interviewer either on the phone or face to face to listen to your responses live. It allows you to conduct the interview at a time that suits you.
Read more about how to prepare and successfully complete the On Demand video interview.
Live video, telephone and In-person interviews
We may conduct an interview via live video, telephone or in-person which will last approximately 30-60 minutes depending on the role.
If you are invited to conduct your interview via a live video, read more about how to prepare and successfully connect to the live video interview.
If you need adjustments prior to or during the interview, or don't understand a question that is asked, please let the interviewer know.
Student and graduate application details
Student and graduate application details (duration 3:06) Watch the video to learn about the application process and ensure you are as prepared as possible when applying for one of our global internships or graduate programmes.
You are leaving HSBC.com. Please be aware that the external site policies, or those of another HSBC Group website, may differ from our website terms and conditions and privacy policy. The next site will open in a new browser window. Note: HSBC is not responsible for any content on third party sites, nor does a link suggest endorsement of those sites and/or their content.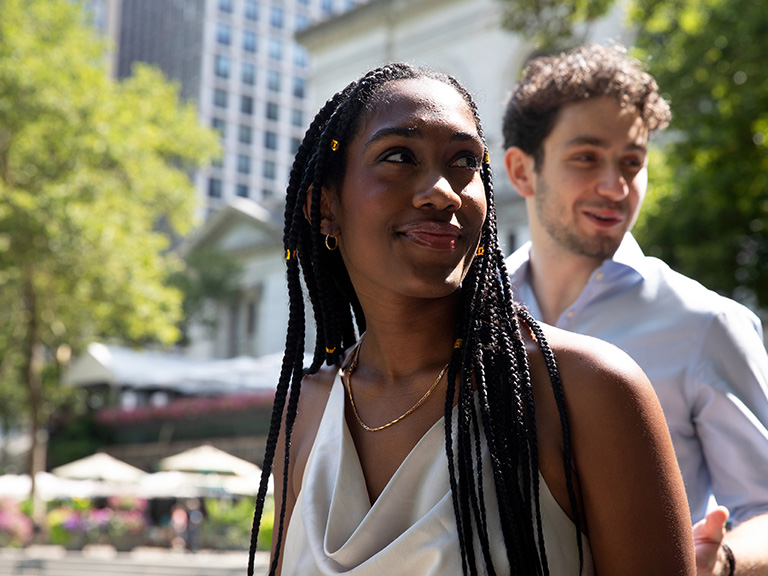 Students and graduates
Whether you are a school leaver, a university student or graduate, we have placements, programmes and entry-level positions to suit you.
Career development
People who work for HSBC receive a wide range of support to help improve their skills and achieve their career goals.