Supporting communities
At HSBC, we have a long-standing commitment to support the communities in which we operate. We're helping to build resilience in areas where we can make a difference and support sustainable economic growth.
We aim to provide people with the skills and knowledge needed to thrive in the post-pandemic environment, and through the transition to a sustainable future.
>6.6m
PEOPLE
Fact: more than 6.6 million people have benefited from HSBC-funded employability and financial capability programmes since 2018
Fact: our employees spent more than 67,000 hours volunteering during working hours in 2022
$116.8m
US DOLLARS
Fact: the bank's total cash giving towards charitable programmes in 2022 was 116.8 million US dollars
Building skills
We're opening opportunities for people by supporting employability and financial capability through our global skills community programmes and charitable partnerships.
Our employees play a key role and we offer paid volunteering days for them to contribute to their communities.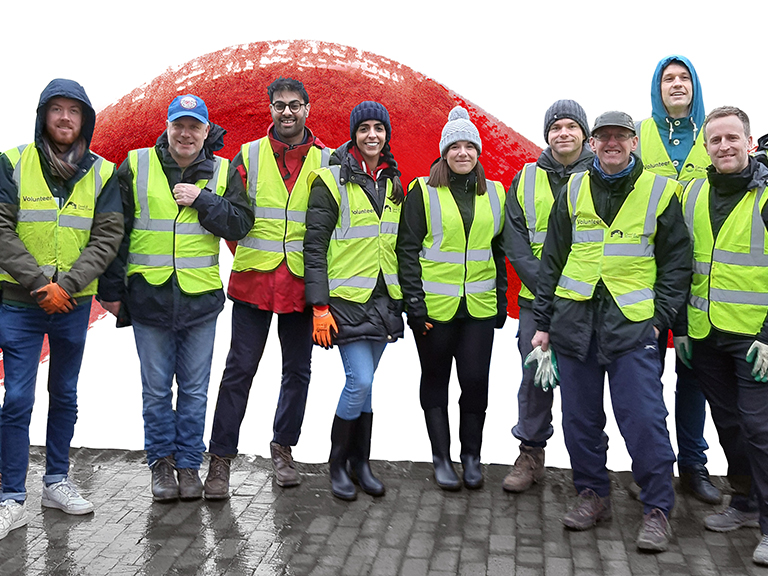 Volunteering
At HSBC, we encourage our employees to volunteer their time and skills for the benefit of their local communities and themselves.
Creating opportunities for hearing impaired students
Our community partner and HSBC volunteers are supporting people to learn new skills and secure multimedia jobs in India.
Help Me Read scheme delivers real-life success stories
HSBC mentors are supporting underprivileged young people to start exciting new chapters in their lives.
Connecting with communities
We're supporting Indigenous youth of Canada achieve their full potential and providing opportunities for our employees to connect with their communities.
We support our charity partners to deliver a combination of global and locally-led programmes, including:
Partnering with Junior Achievement on their International Innovation Challenges and 'Building a Financially Capable Generation' initiative to help young people learn about money management and build financial capability skills;
Our Green Skills Innovation Challenge with Ashoka - a global network for social entrepreneurs - which recognised 12 innovators who are simultaneously solving environmental and social problems;
The Technovation Girls programme, which aims to address the lack of diversity in the technology sector by equipping young women and girls with the skills to become technology entrepreneurs and leaders;
Partnering with The Prince's Trust International to support young people develop skills for a more sustainable future including personal, green and entrepreneurial skills.
Community investment
We earmark roughly a quarter of funding each year for causes that are important to communities across our network, reflecting local needs, such as environmental protection or healthcare.
We are also committed to providing financial and other help in response to unforeseen and sudden challenges including natural disasters, humanitarian crises and pandemics such as COVID-19.
The Hongkong Bank Foundation
We established The Hongkong Bank Foundation (opens in new window) in 1981, and it has since supported more than 10,000 projects focused on fostering innovative ideas, solving social and environmental issues and enabling progress in the city's underserved communities.
On 2 August 2022, we announced a donation of HKD100 million to step up our support for disadvantaged groups in the city – in addition to more than HKD170 million of charitable donations we have made to the Hong Kong community since the start of the COVID-19 pandemic in 2020.
Climate solutions partnership
We've joined up with World Resources Institute (WRI) and WWF to form a five-year philanthropic partnership to help climate solutions become commercial reality and have real-world impact.