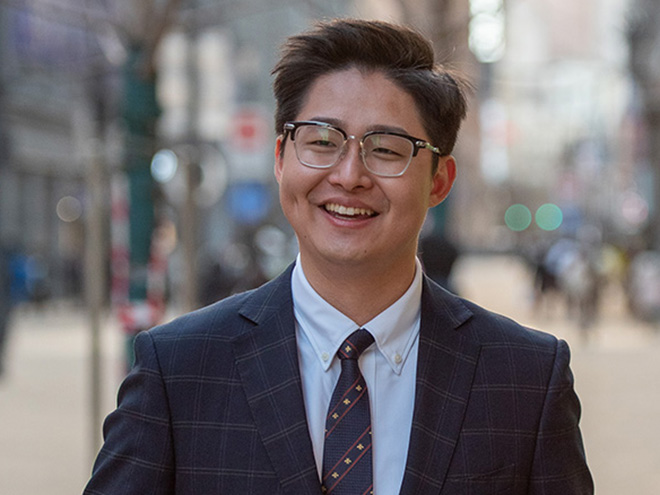 Richard Fu
Senior Personal Wealth Planner, Wealth and Personal Banking
Shanghai, China
Joined in 2020
The great thing about this job is that it's mobile. I'm a Wealth Planner, and my role is to help my clients reach their financial, health and life goals. But rather than being restricted to a branch, I can meet them wherever it suits them, whether that's at their home, office, a hotel, restaurant or café. I just bring my tablet with me.
I love having the freedom to move around, and it means it's easier to fit into my clients' busy schedules. This flexibility is what's unique about working for this team, which launched at HSBC in China in 2020.
Wealth management is a growing industry in China, so it's very exciting. I have some really interesting clients, from high-flying entrepreneurs to people at the top of diverse industries. I love listening to their stories and discovering what makes them tick.
It's a challenge, too – you need to really get to know their needs, and those of their family, so that you match the products accordingly. But it's satisfying to be able to help them. I advise them on a wide range of services, such as life and health protection, retirement, education savings, elderly care and legacy planning.
My wife and I live quite far from the city centre, so a typical day for me begins with a trip on the subway. I use the time to catch up on the news – for this job, it's important to stay up to speed on what's going on in the world.
When I get to the office, I have a morning meeting with the other Wealth Planners to find out more about any newly launched products and share insights. After that we set about meeting our clients to talk about their financial plan. At lunch, I might go to the gym. One of my clients is actually my exercise buddy, so we sometimes do a fitness class together.
The working day ends with a meeting with the team to discuss how our day has been and any client feedback on how we can to improve our services and the customer journey. In the evenings, I enjoy playing basketball and board games with friends. I'm a huge fan of the strategy-based card game Magic: The Gathering, and I enter tournaments whenever I can.
I've had a pretty international life so far. I was born in Japan – my parents moved there for work. I also went to university in the US and worked for a bank there before moving to China. I think these experiences have given me an open mind and enable me to be comfortable meeting clients with a range of backgrounds. This is also why I love working at HSBC. It's so culturally diverse with colleagues all over the world. It's a great community and organisation to be part of.