Investing in technology has long been a priority for HSBC – but COVID-19 has brought its importance into even sharper focus.
Millions of customers worldwide have turned to our digital channels to do their banking. For example, across the bank the value of mobile payments increased 220 per cent in April to June 2020 compared with the same period in 2019. Downloads of our HSBCnet mobile app for corporate customers rose 155 per cent during the first nine months of the year.
The digital foundations that HSBC has put in place in recent years have meant we have been well prepared to support customers through the unprecedented challenges of the pandemic. And we have continued to drive progress in 2020, upgrading digital banking platforms for our personal banking and corporate clients.
HSBC expects to spend USD5.8 billion on technology this year as we continue to make our operations more efficient and improve the digital experience for our customers.
View the infographic to explore some of the ways in which we have made banking simpler, safer and more personalised.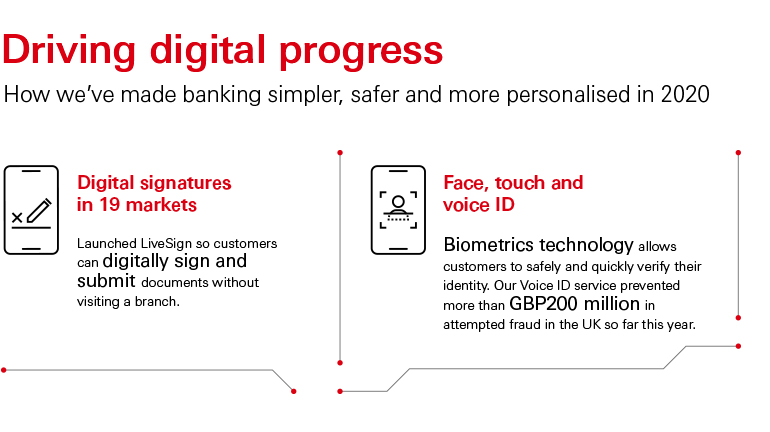 Infographic: Driving digital progress
Further digital developments
As well as the examples highlighted in the infographic, we have made these technology improvements in 2020:
We've cut account opening times in many markets from days or weeks to under 24 hours, using digital tools to replace manual and paper-based processes
Our in-house iCash tool is using artificial intelligence to ensure more than 1,200 ATMs in Hong Kong don't run out of money
We're making it easier for businesses to offer digital payment methods to customers and keep track of incoming payments in one place with HSBC Omni Collect, which we've extended to nine markets across Asia-Pacific
We've developed VisionGo, a digital platform in Hong Kong on which entrepreneurs and small businesses can network and share knowledge
Using data and analytics technology, every month we screen around 689 million transactions across 236 million accounts for signs of money laundering and financial crime
We've enabled more than 220,000 colleagues to work securely from home during the pandemic
Getting smart about using data
Ranil Boteju explores how analytics and algorithms can help banks serve customers better.