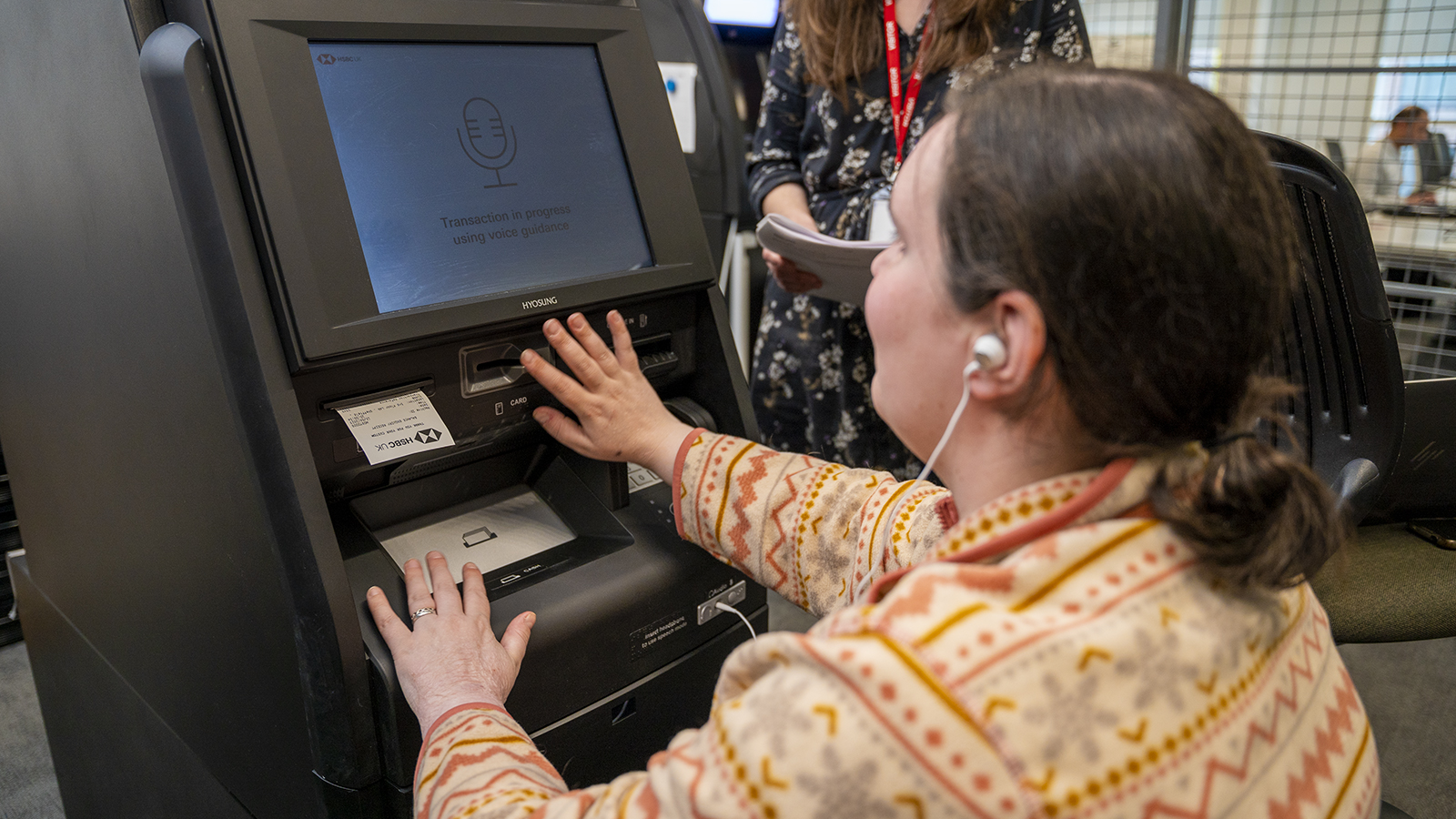 The true test of a product's accessibility is making sure customers can use it in practice. See what happens when a crack team of user-researchers put our newest ATMs through their paces.
"I'm brutally honest during this process. If you want to make a difference, you have to be." This is Liam, a seasoned accessibility tester who has come to HSBC's office in Sheffield, northern England, to see what he makes of our work-in-progress ATM.
It's all part and parcel of a major upgrade to our 1,800 machines across the UK. A key stage in the process – as with any of our new products – is making sure the machines are accessible to people with disabilities. In practice as well as in theory.
Today's research session is focused on the ATM's redesigned software. The setting is the 'test cell' – a secure area encircled by wire fencing, in the middle of an open-plan office floor. Here, the gentle tapping of keyboards is punctuated by the beeps and whirrs of the test machines that live permanently inside the cell.
Over three days, user-testers with a range of disabilities will assess the new device. They will simulate tasks such as withdrawing cash, changing a PIN number, and paying money in – while simultaneously feeding back on their experience.
First up is Jennie, who is visually impaired. In the past, she's had to ask taxi drivers to help her get cash out. She is all for technology that allows her to be independent.
Prompted by an accessibility consultant, she plugs her headphones into the machine to activate the voice guidance and goes through the tasks one by one. Her guide dog sits patiently at her feet.
Jennie's favourite thing about the ATM? "It tells me that my transactions aren't visible – that makes me feel secure."
She's also impressed by how easy it is to change her PIN. She uses cash infrequently nowadays, but these machines are about more than just getting money out. "You can't change your PIN online, and it's a nice and easy process on this machine."
She'd make the whole thing a bit faster if she could. "Maybe I'm just the kind of person who wants everything done now, but the software seems a bit slow."
Alison, who has autism and uses a wheelchair, is a fan of the new ATM's keypad navigation. She finds it more comfortable than using touchscreen. She's also a fan of the bank balance on the dummy card she inserts into the machine. "I wish this was my bank account," she jokes.
For Liam, who is registered blind, a highlight is how easy it is for him to pay in cash. "The paying-in machines I've tried in the past haven't worked well with voice guidance. But this one is straightforward to use and understand."
One thing he'd change is the loud beeping that at times makes it hard to hear the speech. This is a common theme that emerges over the three days of user-testing. The beeps are a standard design feature intended to alert users to things that need their attention, but some find them too distracting.
In a report on the research sessions, our partner organisation AbilityNet recommends we reduce their volume or frequency. Our developers will address this before the new machines are piloted.
A valuable step
We launched our accessibility user research programme in 2021, in partnership with AbilityNet. It's becoming an increasingly important part of the process of ensuring our services can be used by everyone.
"True accessibility is about people, not just guidelines," explains Dr Chris Bailey, a Senior Digital Accessibility Manager at HSBC, who leads the programme.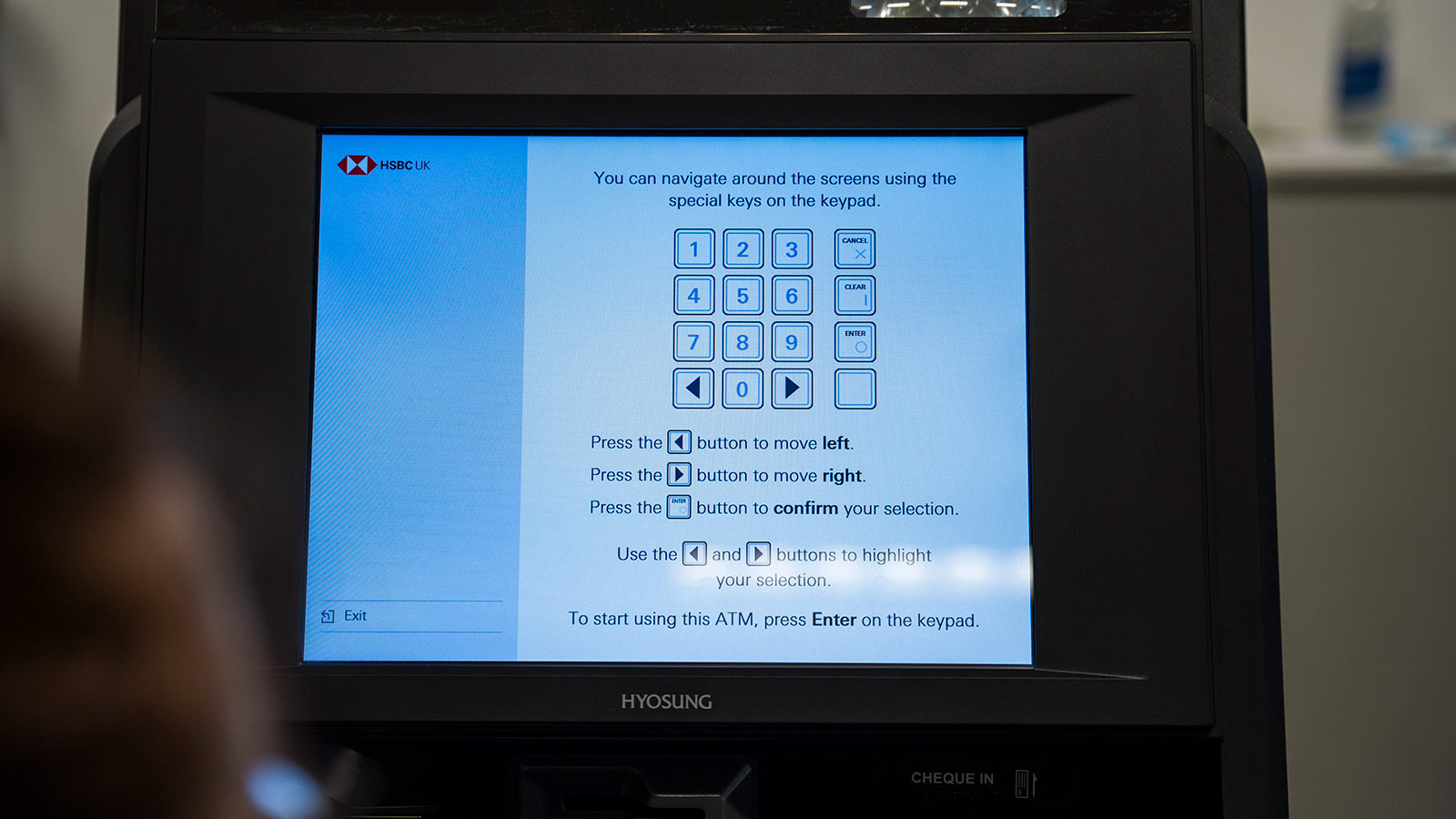 "Whenever we launch or update a digital product, our designers and developers aim to meet international accessibility guidelines. This provides the foundation and ensures we follow best practice, but it doesn't necessarily cover all real-life scenarios.
"This is where user research adds so much value. Working with users means we can raise the bar to go beyond guidelines and provide truly accessible experiences which better meet customers' needs."
Today's testers agree that this type of research is a great thing. "You won't really understand someone else's experience unless you're in their shoes – or wheels," says Alison.
It's a process that benefits all our customers, with or without disabilities, adds Liam. "If you make something easier for people with disabilities to navigate, then you ultimately make it better and more user-friendly for everyone," he says.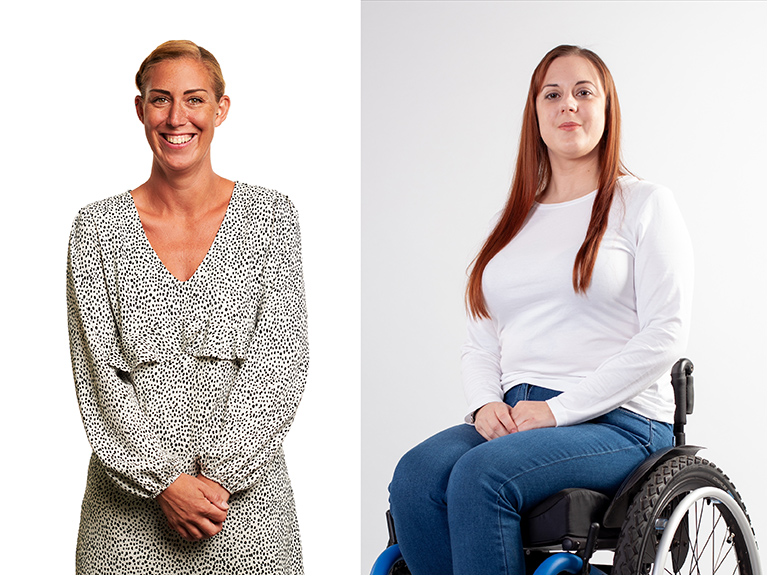 Talking talent
Two colleagues with very different life experiences share the role they play in making our recruitment practices more accessible.
Try our training
We're offering 1,000 people outside HSBC the chance to take part in our digital accessibility training – for free.