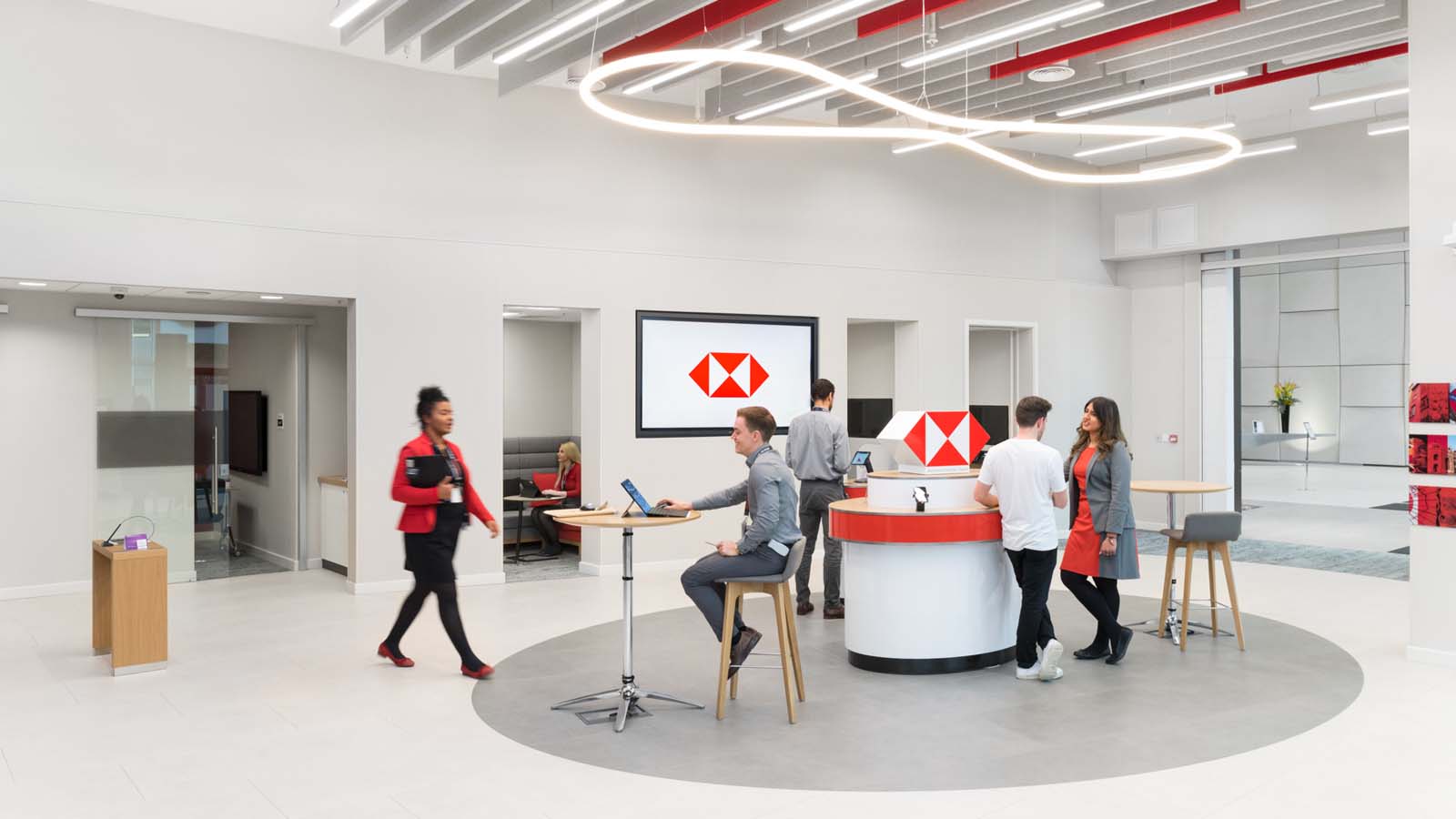 How banking will change after COVID-19
Life for many of us has changed beyond recognition compared with just a few months ago – and one of the biggest changes has been doing electronically what we had historically done more in person. That means video conferencing for meetings and socialising, shopping online, digital banking, and so on.
The question is how much of this change will prove to be permanent versus how much is temporary. If COVID was to end overnight, would old patterns of behaviour return or would new habits become permanent?
For the banking industry the answer is probably more towards permanent change. There has been a lot of news coverage – including about HSBC – highlighting how COVID has driven established banks to accelerate their digital programmes. There's some truth to this: we've had to prioritise enabling customers to complete the most common service journeys remotely, such as resetting PINs, changing loan terms, paying for groceries or filling in forms electronically.
Pandemic hastens digital economy
COVID-19 has accelerated a switch to online living. What could it mean for societies worldwide?
According to research by RFi Group, the financial services insights provider, 71 per cent of consumers globally are now using digital banking channels weekly – a 3 per cent year on year increase – while daily use increased 6 per cent in the same period. In the UK – where 73 per cent of consumers are using digital banking channels weekly, above the global average – there was also a sharp rise in mobile banking use monthly from 52 to 57 per cent of people between 2H 2019 and 1H 2020.
It is clear that COVID alone hasn't suddenly caused the shift to digital, rather it has simply accelerated it as more and more people have digital ecosystems as part of their lives. For instance, the shift away from cash towards digital payment methods has been building gradually for years.
According to UK Finance, just 23 per cent of all purchases made in the UK in 2019 involved cash, and over 70 per cent of the population shopped online last year. Even without COVID, these trends were expected to accelerate in the next few years. The World Economic Forum recently predicted that 50 per cent of goods consumption could be made online in many developed markets by 2030, and UK Finance expects just 9 per cent of payments in the UK to be made using physical currency by 2028.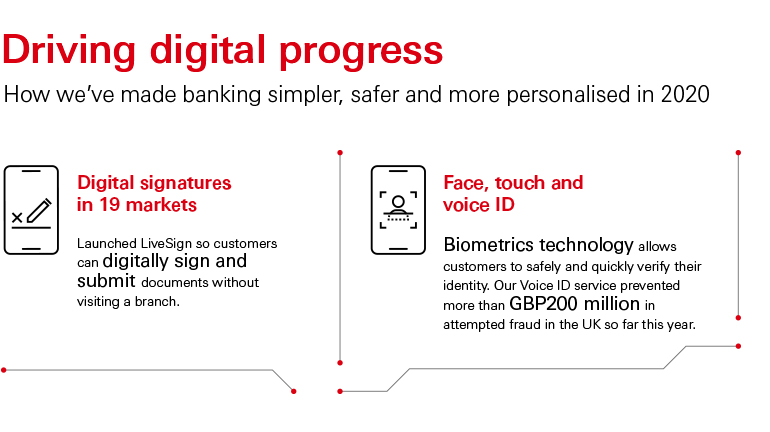 Infographic: Driving digital progress
So, if we were to make some predictions about what banking will look like post-COVID, they might be like this:
1. Even more day-to-day banking via digital
The transition towards digital was inevitable for routine activities – checking balances, payments and transfers, even credit card applications. Many of these activities are habits, and once habits are embedded they are unlikely to change. So, with even more people banking this way because of COVID, these routine activities will stay digital.
2. Customers still go to branches for important life moments
As COVID fades, people will still have a psychological need for human interaction at important life moments. People need to feel reassured when it comes to life events like sending a child overseas for education, managing generational wealth transfers, establishing a wealth plan, bereavement or buying a home. This means we can expect some return to "normal" post-COVID – and branches will see a significant proportion of this type of activity. What remains to be seen is how far people will be willing to use video conferencing as part of this, which may in turn depend on factors like how long social distancing remains.
3. Bank branches become more like service lounges
The way branches look and feel will change. Branches will become less about rows of tellers managing daily transactions, which can now be done online – and more like service lounges. Agents will be on hand to guide customers through transactions on their own devices, and space will be broken up into more casual seating areas for deeper private conversations. Changing the layout of branches in this way will also support any ongoing social distancing.
4. Regulatory collaboration on digitisation accelerates
Regulators and banks were able to work together to rapidly help customers keep banking during the early days of COVID – including collaboration to support greater availability of digital and video banking services in some markets. We predict that this cooperation will grow as digitalisation continues to accelerate and evolves into new areas like AI and machine learning.
5. Established banks compete like challenger banks, and form more partnerships
Increased digitisation for customers will also drive more partnerships between banks and platforms like online retailers and social platforms, so you can bank where you spend or socialise. Separately, as we're seeing new digital entrants to retail banking markets around the world, we also predict that established international banks will begin to challenge with increasingly scalable digital platforms inside and outside their home markets. The benefit of both changes for consumers will be clear: more choice. For the established banks it's an opportunity to compete in new markets, segments and marketplaces.
In general, AI and data analytics will be key areas of focus for investment in digital capabilities, as banks shift from using these not just to monitor transactions but also assist customers via "conversational banking". Banks like HSBC will be merging human and digital channels to provide help to customers more quickly and at a lower cost. For example, customers can begin a conversation in the HSBC mobile app with an AI chatbot, which is capable of answering simple questions immediately, but enquiries that are more complex get passed on to front-line colleagues.
With the growing popularity of instant messages and demand for 24/7 banking services, conversational banking involving AI chatbots enables banks to engage with customers more promptly and effectively. At HSBC, we held 10 million chat conversations in 2019 across personal banking – and we expect to reach 10 million chat conversations a month by 2024.
It seems clear that normal post-COVID will not be the same as life before. COVID has made us focus as a society on new solutions to familiar problems in order to help us live our lives during the pandemic – and some of these developments will be permanently embedded. But while some parts of service industries like banking will change, the human element will persist – particularly where complexity is involved and reassurance is needed.
Embracing digital to enhance our service
Group Chief Executive Noel Quinn explains how HSBC has adapted during the COVID-19 pandemic to better serve its customers.