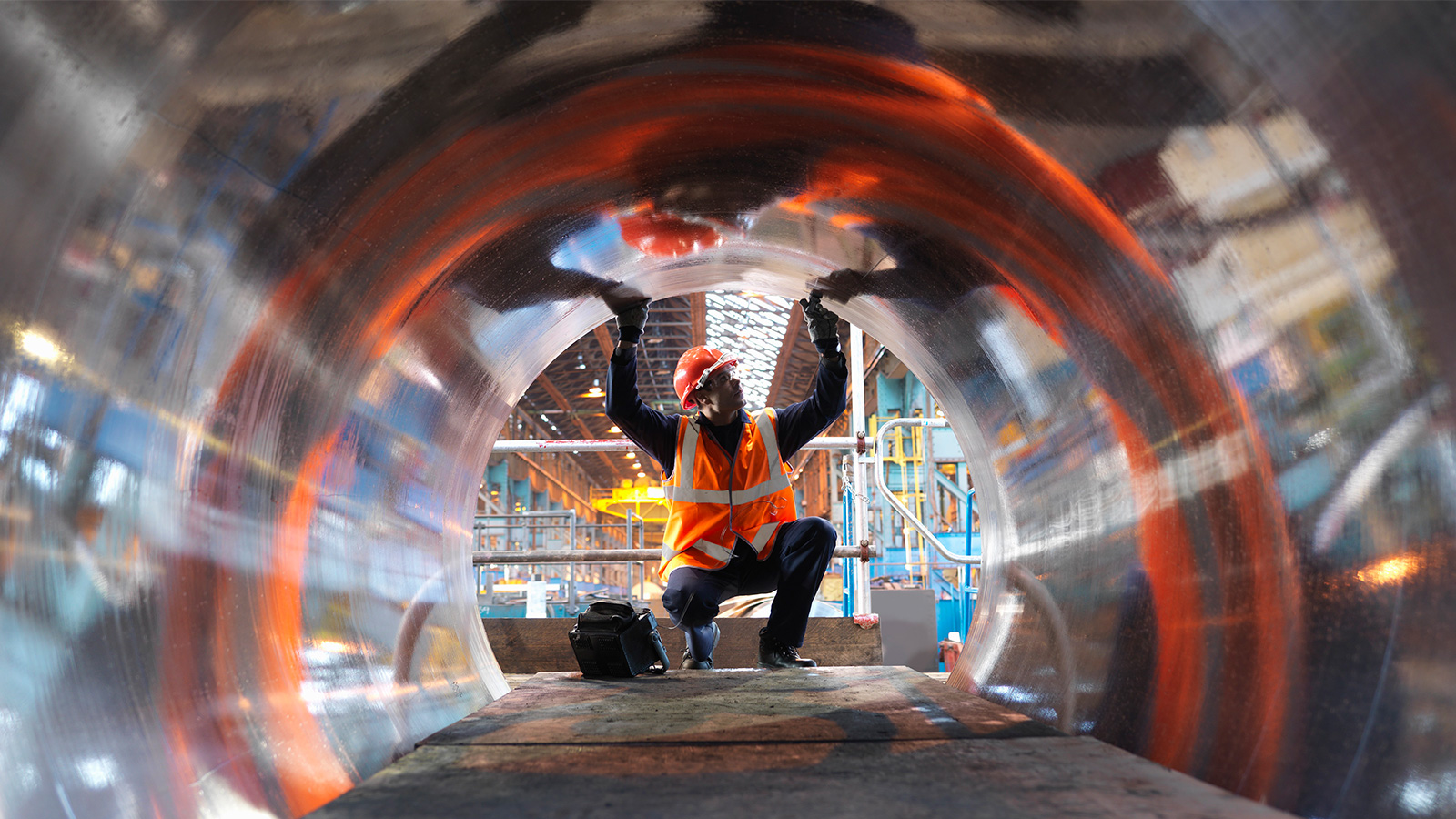 We've set climate targets for the real economy
We've announced further financed emissions targets to support emissions reduction in the real economy.
These new targets support our work with clients to help them diversify and decarbonise, as part of our ambition to become a net zero bank by 2050 or sooner.
Last year, we published our first set of targets, focusing on the sectors that make up the largest proportion of emissions we finance – oil and gas, and power and utilities.
We've now set 2030 emission reduction targets for four additional carbon intensive sectors: cement; iron, steel and aluminium; and the transport sectors of automotive and aviation.
By supporting clients in these industries to decarbonise, we can help them to play a key role in building and connecting the net zero economy of tomorrow.
These sectors also sit at the heart of energy demand in today's economy. Reducing this demand can accelerate the transition away from fossil fuels and the delivery of our energy sector targets.
Our overarching aim in setting these targets is to:
Reduce the emissions we finance
Unlock future growth opportunities for our clients
Help accelerate the transition to a more resilient net zero economy
Our targets in numbers
Cement (on-balance sheet financed emissions intensity): A reduction from 0.64 tonnes of carbon dioxide equivalent per ton of cement (tCO2) to 0.46 by 2030
Iron, steel and aluminium (on-balance sheet financed emissions intensity): A reduction from 1.8 tonnes of carbon dioxide equivalent per ton of steel / aluminium (tCO2) to 1.05 by 2030
Aviation: A reduction from 84 grams of carbon dioxide equivalent per revenue passenger kilometre (tCO2/ rpk) to 63 by 2030
Automotive: A reduction from 191.5 grams of carbon dioxide equivalent per vehicle kilometre (tCO2/million vkm) to 66 by 2030
Setting sector pathways
These pathways estimate the changes needed to limit global warming temperature rises to 1.5C. They are based on expert analysis by the International Energy Agency and Intergovernmental Panel on Climate Change.
Achieving these targets will require us to work closely with our clients. By setting intensity based targets, we can enable climate-positive investment in these sectors, to support green technologies and transition solutions. Our overall aim is to drive absolute emissions reduction and help achieve net zero by 2050.
The targets we set are consistent with wider industry standards. This helps us to ensure our targets are credible and durable.
While we do not expect progress against our targets to be linear, particularly in the face of the current global energy crisis, we are resolute in our commitment to the 2030 targets set out for these sectors.
Moving forward
We plan to continue to report progress on an annual basis for all our interim targets and have created a dedicated webpage to track progress.
As part of our ongoing efforts to align our portfolio to net zero, we plan to set further 2030 sector targets for agriculture, shipping, and commercial and residential real estate.
Later this year we plan to publish our bank-wide net zero transition plan, which sets out how we intend to embed our 2050 and 2030 net zero targets into HSBC's strategy, processes, and policies.
Finally, we continue to work to channel capital towards the new technologies and industries key to building a net zero future, both directly and in collaboration with our industry partners.