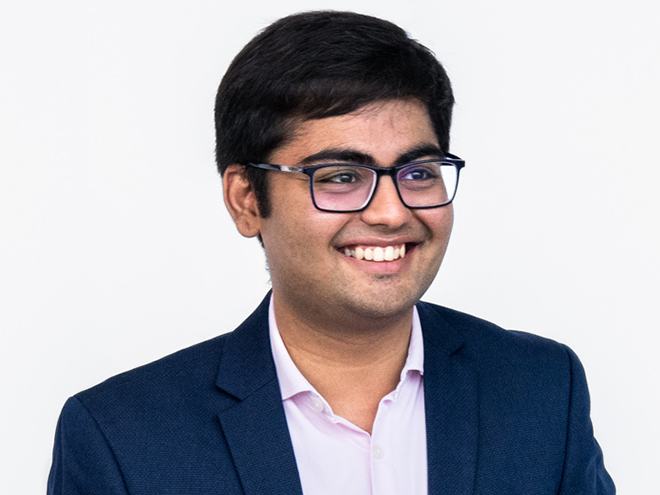 Jay Bothra
Lead Development Specialist, Technology, Operations and Services
London, United Kingdom
I have always been fascinated by technology. Studying at the National Institute of Technology in Surat, Gujarat, gave me plenty of opportunities to pursue that interest. I threw myself into various clubs and technology groups. I built a robotic prosthetic arm and even constructed a drone before they were widely available.
As the son of a stockbroker in the Bombay Stock Exchange, I had heard stories of the legacy and heritage of HSBC from an early age. So when HSBC came to my campus to interview potential graduate programme candidates as I was finishing my Bachelor of Technology in Computer Science, my interest was piqued.
"I have been looking at quantum computing and generative AI to explore their potential"
I was selected and quickly got to work in the graduate programme, thriving in the rotational system. My first big job at HSBC was a project developing blockchain technology. There wasn't a lot of knowledge on blockchain applications at the time, so I only expected to make something for my own education. I did not anticipate the success that would follow.
I was part of a team that developed a blockchain application allowing shareholders to safely and securely vote on resolutions during companies' Annual General Meetings from anywhere in the world. There was a lot of business interest in this application. My collaborators and I won two industry awards for innovation and, most exciting for me, I received a handwritten letter from the Chief Information Officer of my department.
Over the years at HSBC, I have had the opportunity to work across different businesses and functions, including Markets and Securities Services, Wholesale, Global Banking and Chief Technology Office. My work in the digital transformation of the bank has included building one of the leading client onboarding platforms in the industry.
I have also had the opportunity to work within the cybersecurity space, improving our tooling and remediating security issues to make our platforms secure for our customers. And to top all of it, I have been looking at quantum computing and generative AI to explore their potential and build cutting-edge digital solutions.