Our senior leaders meet Hong Kong shareholders
HSBC senior leaders today met our Hong Kong retail shareholders, in advance of the Group's Annual General Meeting on 5 May.
On stage representing us were Group Chairman Mark Tucker; Group Chief Executive Noel Quinn; Peter Wong, Chairman of The Hongkong and Shanghai Banking Corporation; David Liao, Co-CEO, Asia-Pacific; and Luanne Lim, HSBC Hong Kong Chief Executive.
The Hong Kong informal shareholders' meeting was held at the Kowloonbay International Trade and Exhibition Centre.
Mark welcomed shareholders, stating the bank's intention to hold the meeting before the AGM on a regular ongoing basis in future years.
He highlighted the Group's improved performance over the last three years and the positive impact for shareholders. He also talked about the Group's impending Annual General Meeting, and set out the Board's recommendation to shareholders to vote against three shareholder-requisitioned resolutions, as set out in the AGM Notice of Meeting.
What was said at the meeting
Mark Tucker, HSBC Group Chairman:
"When we set out our strategy three years ago, it was clear to the Board that HSBC was underperforming. There were fundamental issues that needed to be addressed, including uneven performance and inefficient use of capital.
"As you have seen from our results, our strategy is now delivering much stronger financial performance. In 2022, adjusted profits were up 17%. Our reported return on tangible equity was 9.9%, or 11.6% on an adjusted basis. And there was good broad-based profit generation. This is the biggest change to your Bank, compared with three years ago.
"We completely understand the importance of dividends to all our shareholders. We are committed to ensuring that you benefit from our improved performance. In 2022, the dividend was 32 US cents per share, which was an increase of 28%. As I said when we met last year, our plan – if delivered – would lead to higher dividends for 2023 and 2024 … We expect to have substantial distribution capacity in the years ahead.
"Our current strategy is working. It is improving our performance and increasing your dividends. You should not put this at risk. That is why the Board is unanimous in recommending that you vote against [resolutions 16, 17 and 18].
"We respect the views and opinions of our shareholders. But we would only ever pursue suggestions if they offered material net benefits for all our shareholders. It is our unanimous view that these resolutions do not do that. Quite the opposite in fact. The Board has a clear responsibility to protect and grow shareholder value. And the best way to do that is to continue with our current strategy."

Noel Quinn, HSBC Group Chief Executive:
"You have been patient and stuck with us. We know how important dividends are to you, and we want to reward your loyalty and the trust you have had in HSBC over many decades. The planned sale of our banking operations in Canada gives us an opportunity to do that. We intend to pay a special dividend of 21 US cents per share in 2024 as the first priority use of the proceeds from that transaction, once it closes. I hope it goes a long way to putting right the cancelled dividend in 2020 and to restoring the trust between us.
"We have now committed to a 50% dividend payout ratio for 2023 and 2024. So the dividend will get back to around pre-Covid levels if we deliver on our plans – and we will do so on a much more sustainable basis and with substantial capacity still to invest in growth, whilst paying good dividends.
"We can use the money we generate to invest for growth – or for share buybacks, which remain another important way of returning capital to shareholders. That's a radically different and far better position for this bank today, relative to three years ago. In addition, we will revert to quarterly dividends, starting at our Q1 results in a few weeks, which many of you asked us to do.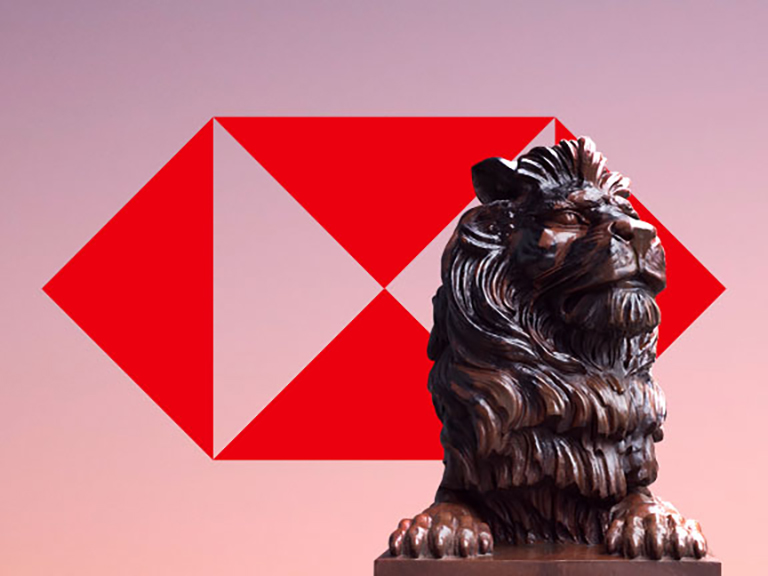 AGM and shareholder meetings
"Hong Kong has been through a difficult time, but now it's back. This great city is full of energy and thriving again. In our dialogue with the authorities in mainland China and here in Hong Kong, it is clear that they want us to help ensure Hong Kong remains a leading international financial centre. As Hong Kong's global bank, we will do everything we can to enable it succeed on the world stage.
"You will be aware that we recently acquired a small, specialist UK bank with a pool of new, high-quality clients. Many of them are the entrepreneurs of today building the companies and technologies of tomorrow, in sectors like consumer internet, clean-tech, life science, software and hardware. The new capabilities we acquired should accelerate our plans to increase the support we provide to these sectors by around three years. This will also allow us to play an even bigger role in supporting new economy companies in Hong Kong.
"Given the huge importance of these new economy companies to Hong Kong and mainland China, we are now launching a dedicated New Economy Lending Fund, which will be worth around HK$24 billion in total. The fund will be launched soon – and it underlines our commitment to supporting the future of Hong Kong, and demonstrates how Hong Kong will benefit from the capabilities we acquired."
Peter Wong, Chairman of The Hongkong and Shanghai Banking Corporation:
"This year marks the 158th anniversary of HSBC's founding. At last year's shareholders' meeting, we announced that we will donate HK$100 million via the Hongkong Bank Foundation to help our community recover from the pandemic.
"Today, I am pleased to update you on our progress. Over the next three years, we will partner with the local charity Food Angel to provide 6,000 more meals a day to people in need. This is an important initiative to help more people, and promote inclusion and harmony in our society."