HSBC's climate plan explained
In October 2020, HSBC set out an ambitious plan to prioritise sustainable financing and investment that supports the global transition to a net zero carbon economy. Here we explain it in more detail.
Why does a bank have a climate plan?
The Paris Agreement signed by global leaders in 2015 set a goal to limit the rise in the planet's temperature to well below 2 degrees Celsius above pre-industrial levels by 2050. If that target is to be achieved, every organisation in the world has a part to play.
As a bank, we can help. The most significant impact we can have is helping clients to transition to producing lower carbon emissions through financing and investment.
We want to be the leading bank supporting the global economy in transitioning to net zero. By net zero we mean reducing emissions added to the atmosphere while increasing the amount taken out, achieving a balance that not only protects the planet but that builds a sustainable and thriving global economy.
Our international reach and global client network means we can influence and shape fundamental change. For more than 150 years we have opened up opportunities for our customers and communities. Achieving net zero is a huge opportunity the world has to take.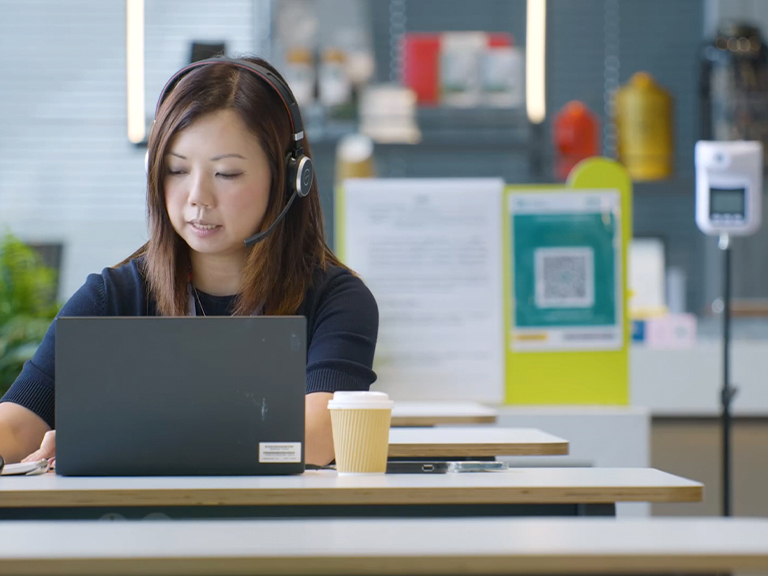 Enduring the pandemic together
We are continuing to support customers and communities affected by Covid-19 outbreaks in 2022.
What are the three elements to the bank's climate plan?
At the heart of our plan is an aim to align our financed emissions – emissions produced by our portfolio of customers – to the Paris Agreement goal of net zero by 2050 or sooner. To ensure we stay on track, we will develop clear and measurable pathways to lowering financed emissions, using the Paris Agreement Capital Transition Assessment Tool (PACTA).
The most significant thing we can do is to support our customers' transition to lower carbon through transition financing, which is financial support that helps heavy-emitting companies take action to become more environmentally sustainable over time. Our ambition is to provide between USD750 billion and USD1 trillion in financing and investment over the next 10 years for clients in all sectors to support them to progressively decarbonise.
"The most significant thing we can do is to support our customers' transition to lower carbon through transition finance"
We're also leading by example, setting ourselves a target to make our operations net zero by 2030 or sooner, and we're working with suppliers to achieve the same goal in our supply chain. A lot of the work in this area will build on what we have achieved in recent years to cut carbon emissions and reduce our wider environmental impact.
To accelerate the global transition to net zero, we also want to unlock climate solutions such as clean tech innovation, sustainable infrastructure, and nature-based solutions. Radical ideas are needed to tackle climate change, but turning concepts into commercially viable solutions at a global scale requires investment and governance.
HSBC sets out net zero ambition
Find out how we plan to help build a thriving low-carbon economy.
How will HSBC support climate innovation?
Developing clean technology is critical. So we're also setting up a dedicated unit to manage a technology venture debt fund that will target investment of up to USD100 million for supporting clean tech innovation companies.
We will also soon launch a new philanthropic programme, with an aim to donate USD100 million between now and 2025 to bring the brightest ideas to commercial scale, overcoming the barriers to tackling climate change and enabling the transition to net zero.
We'll help transform sustainable infrastructure into a global asset class, playing a leading role in the Finance to Accelerate the Sustainable Transition-Infrastructure (FAST-Infra) initiative to drive investment in sustainable infrastructure together with the OECD and the World Bank Group.
And we'll turn natural capital into a mainstream asset class to preserve, protect and enhance nature over the long-term.
What are nature-based solutions?
Typically, this refers to restoring and protecting natural assets such as oceans, forests, soil and mangroves that absorb carbon from the atmosphere.
We want to help develop business and investment models for enterprises that are finding ways to restore, manage and protect nature.
One way we're doing this is through HSBC Pollination Climate Asset Management, which highlights the scale of our ambition to support the transition to net zero. The new joint venture with specialist climate advisory company Pollination aims to be the world's largest natural capital manager. It offers clients the opportunity to invest in projects that support a sustainable economy, such as sustainable farming and fishing.
How will HSBC help customers make the transition?
We will work with our customers during their journey to lowering carbon emissions. Beyond facilitating between USD750 billion and USD1 billion in transition finance over the next 10 years, our dedicated Environmental, Social and Governance (ESG) Solutions unit will provide expert advice.
Just last week we announced how we'd helped Etihad Airways issue the world's first 'transition' sukuk (funds raised in accordance with Islamic law). The USD600 million raised will enable the company to invest in energy-efficient aircraft and research and development into sustainable aviation fuels.
Transition finance takes off in the UAE
The world's first transition sukuk will help cut carbon from the aviation industry – and HSBC is playing a key role.
So HSBC can support heavy carbon-emitting industries?
Many heavy-emitting industries, from construction to transport, play a vital role in economies and societies. So we have to help them transition in a way that maintains wider economic stability. To do that, we're increasing our portfolio of transition finance solutions to enable even the most heavy-emitting sectors to progressively decarbonise.
In many cases transition won't be easy and will take time and investment. But new technologies have the potential to help. A recent report from our Centre of Sustainable Finance, for example, explores how 'green' hydrogen could drive down emissions in industries such as chemicals, steel and cement.
We want to work with customers in every sector to develop tailored solutions for reducing emissions that take into account the unique challenges of the sector, the business, and the geography they're in.
How is HSBC making its own operations net zero?
We've already made significant progress. Our annual carbon emissions per full-time employee fell to 1.76 tonnes in 2020, a drop of almost 50 per cent since 2011. But we have more to do.
We're continuing to reduce our wider environmental impact by using less energy, paper and water, and generating less waste. We've committed to buying 100 per cent of our electricity from renewable sources by 2030 as part of the global RE100 initiative, which counts leading global businesses among its members.
As well as encouraging clients to do the same, we're talking to our suppliers about how they can cut their carbon emissions. The time to act is now; we're entering a pivotal decade of change. HSBC is committed to playing a leading role.