Our international network, access to high-growth markets and balance sheet strength help us deliver long-term value for our stakeholders.
Our operating model consists of four global businesses and a Corporate Centre, supported by HSBC Operations, Services and Technology, and 11 global functions.
6.2 billion
US dollars
Reported profit before tax in the first quarter of 2018 is 4.8 billion US dollars.
6.4 billion
US dollars
Adjusted profit before tax in the first quarter of 2018 is 5.8 billion US dollars.
14.4 billion
US dollars
Adjusted revenue in the first quarter of 2018 is 13.2 billion US dollars.
14.3
PER CENT
Common equity tier 1 ratio as of 31 December 2018 is also 14.0 per cent.
Key highlights
Reported profit after tax was US$4.9bn, up 31% on 1Q18

Adjusted revenue up 9.2% compared with 1Q18, with strong performances in our retail banking and commercial banking businesses. Reported revenue up 5%

Slowed the pace of cost growth and delivered positive adjusted jaws of 6.0%, while still investing around US$1.0 billion in digital technology and efforts to grow the business

Increased lending to customers by 7% to US$1 trillion compared with the same period last year

Earnings per share of 21 cents, up 40%. Return on tangible equity was 10.6%, up considerably from 8.4% in 1Q18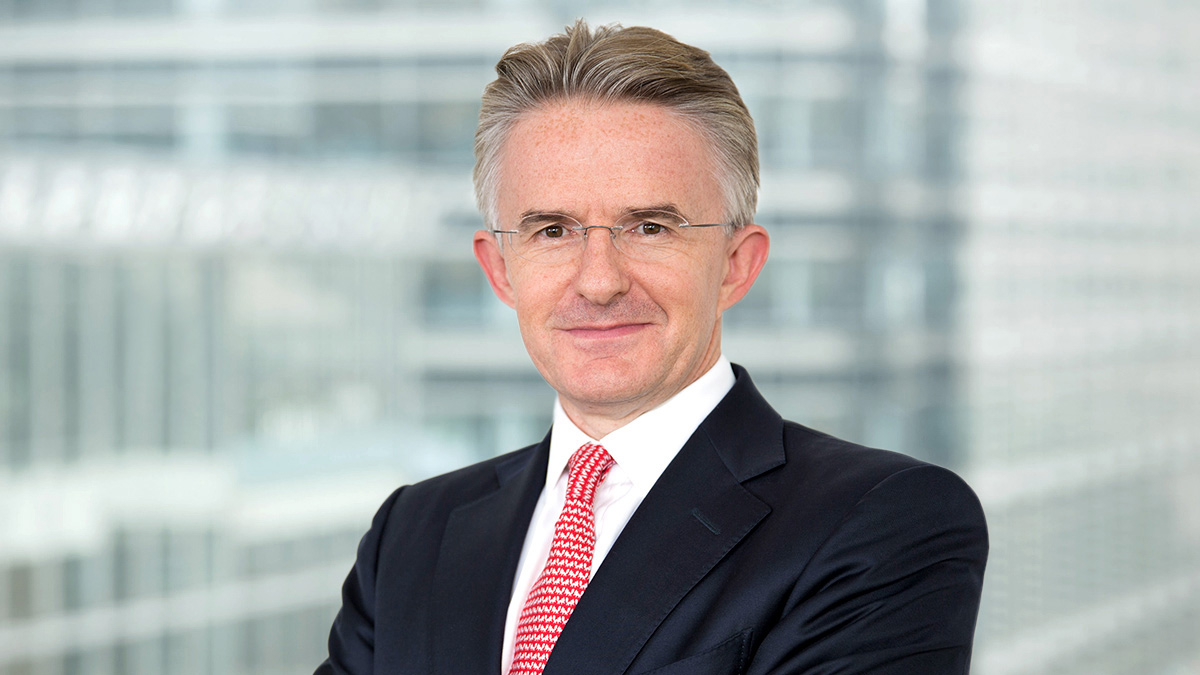 "These are an encouraging set of results, particularly in the context of heightened economic uncertainty globally. We remain focused on executing the strategy we outlined last June, while also being alert to risks in the global economy."
John Flint, HSBC Group Chief Executive
03 May 2019
Return on average tangible equity (% annualised)
Our target is to achieve a reported return on tangible equity (RoTE) of more than 11% by the end of 2020. We intend to do this while maintaining a common equity tier 1 ratio of greater than 14%.
RoTE is calculated as reported profit attributable to ordinary shareholders less changes in goodwill and the present value of in-force long-term insurance business, divided by average tangible shareholders' equity. A targeted reported RoTE of 11% in 2020 is broadly equivalent to a reported return on equity of 10%.
In the first quarter of 2019, we achieved a RoTE of 10.6%, compared with 8.4% in the first quarter of 2018.
Adjusted jaws
Adjusted jaws measures the difference between the rates of change in adjusted revenue and adjusted operating expenses. Our target is to maintain positive adjusted jaws on an annual basis, while noting the sensitivity of the impact on adjusted jaws of unexpected movements in revenue or operating expenses growth.
Positive jaws occurs when the percentage change in revenue is higher than, or less negative than, the corresponding rate for operating expenses.
In the first quarter of 2019, adjusted jaws was positive 6.0%, compared with negative jaws of 5.7% in the first quarter of 2018.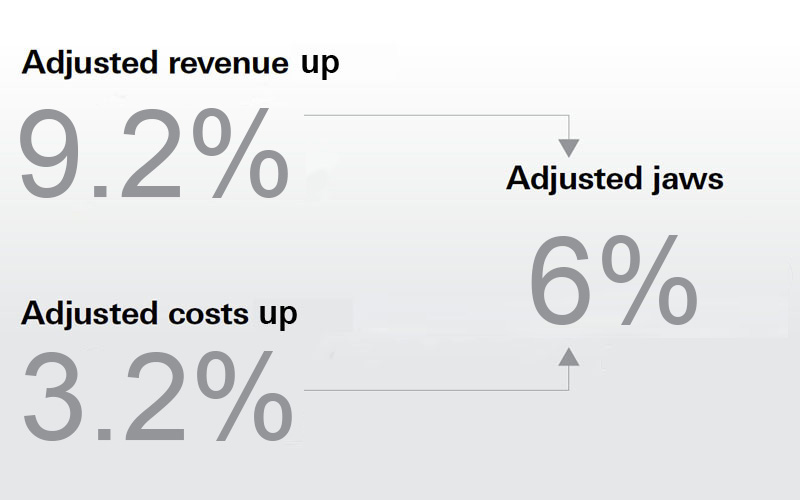 Dividends declared (US$ per ordinary share)
We plan to sustain ordinary dividends at the current level for the foreseeable future. Growing our dividend will depend on the overall profitability of the Group, delivering further release of less efficiently deployed capital and meeting regulatory capital requirements in a timely manner.
Group Chief Financial Officer Ewen Stevenson says the bank's performance in 1Q19 sets it up well for the rest of the year.
Ewen Stevenson, Group Chief Financial Officer, HSBC (duration 1:51)