HSBC's history in the United Arab Emirates (UAE) goes back more than 70 years. We provide a full range of personal, commercial, investment and private banking services in the UAE and have long supported investors and foreign companies in the country.
You are leaving HSBC.com. Please be aware that the external site policies, or those of another HSBC Group website, may differ from our website terms and conditions and privacy policy. The next site will open in a new browser window. Note: HSBC is not responsible for any content on third party sites, nor does a link suggest endorsement of those sites and/or their content.
Why work for HSBC in the UAE?
HSBC is the largest international bank in the Middle East and North Africa, providing a full range of financial services through a network of around 300 offices in 14 countries. We employ more than 3,000 people in the UAE and our regional headquarters is in Dubai.
The British Bank of the Middle East, which HSBC acquired in
1959
first opened a branch in Dubai in
1946
As part of one of the world's largest financial services organisations, HSBC in the UAE offers many ways for both experienced candidates and students and graduates to achieve their career ambitions.
We have opportunities in areas including retail and private banking, wealth management, commercial and investment banking, global markets, trade finance and global payments solutions. In addition, we offer roles in operational and support functions such as risk management, audit, finance, human resources, marketing and technology.
HSBC supports the UAE Central Bank's mandate to increase the proportion of local nationals working in the banking sector. We have a series of initiatives in place to attract and retain skilled UAE nationals (PDF 151KB) .
As an HSBC employee in the UAE, you will have access to tailored professional development opportunities and a competitive pay and benefits package. We work hard to ensure that our workplace is a diverse, inclusive and meritocratic environment and have a strong commitment to sustainability.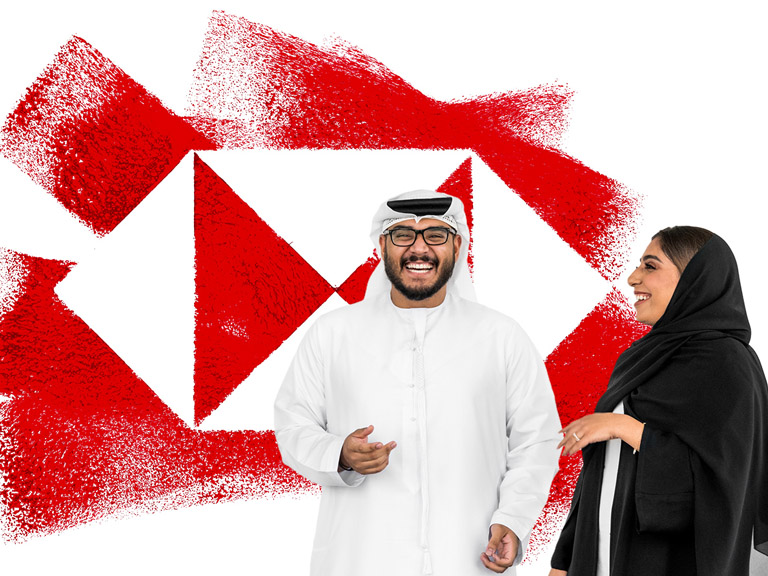 Join our talent community
We're always looking for people with purpose and ambition who can help us build a bank fit for the future. We encourage you to sign up to our talent community (opens in new window) (opens in new window) so that we can update you about job opportunities, careers events and HSBC news in your area(s) of interest.